Forest Lawn Memorial Park is an association of lot owners. It operates in its owner's interest providing products and services to address their needs. We are there for information, options, and guidance for both area residents and nonresidents whether you choose full-body or cremation burial. Our goal is to be straightforward and open with pricing on all products and services; offering convenience, quality, and value.

We are here to do everything we can to help you plan and arrange a funeral. We are there to provide you with information on funeral choices, options, and ways to manage costs. Planning is the key to reducing the stress a family faces when dealing with the loss of a loved one. Arrangements and purchases can be made in advance. Graves and markers can be purchased in advance to help alleviate what the family needs to address during difficult times. We are there to help you with interment options, grave selection, markers design, and the planning of service in our chapel.
Cemetery records are a primary source of ancestral information. One of the most important responsibilities of a cemetery is to maintain accurate records. Forest Lawn Memorial Park is now using a cemetery management system for records management. There is an imaging feature in the system where obituaries, photos, documents, etc. can be scanned and stored with burial records allowing the family to document the life of the deceased and be a repository of ancestral information. This free service greatly expands the amount of information that is normally recorded and preserved. All we require is for the family to provide the documents. Presently, all our manual records are being scanned and loaded into the system.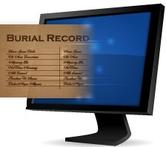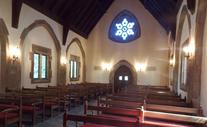 Forest Lawn chapel provides a comfortable convenient space for the full funeral service or simple committal service. The gothic, old-world stone chapel with its beautiful oak carvings, stained glass windows, and ironwork, seats 140, is heated in winter, contains a handicapped restroom, and an organ for music.
The cemetery sells Matthews' "diamond finished" memorial markers and vases. They offer the highest quality markers on the market. If you want a product, that will last, we suggest you purchase a Matthews marker. We are happy to work with families who are local and out of town, in person or over the phone. To help with the design and selection process, we use Matthews' online design tool. The software provides the client an actual picture of the marker. We are competitively priced. We strive to provide our lot owners with low pricing. In the event, you find a lower price, bring it to our attention, and we will "price match" using a comparable marker.
Markers can be pre-purchased using Matthews' ECOP program. A marker can be selected, purchased at today's prices, and stored until needed.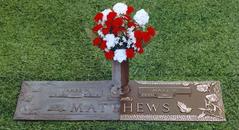 Marker Cleaning & Restoration
The finish on a marker can last 40 or more years if properly maintained. To maximize the life of the finish, the marker should be cleaned and protected at least once a year if not more. The cemetery offers a cleaning service for those who are unable. Routine cleaning greatly extends the life of the finish.
In time all finishes will wear. At first, the finish will dull and then turn a blue-green color as the copper in the bronze oxidizes. To get the marker in a like-new condition, we offer a refinishing service. This involves sandblasting off the old finish, repainting, highlighting, and clear coating the marker. It is a multi-day effort; but when complete, they look like a new marker.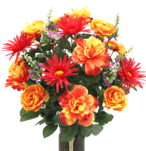 Flowers, Winter Wreaths, & Vesper Lights
For your convenience, the cemetery has a program where seasonal flowers, winter wreaths, and vesper lights can be purchased and the cemetery will place them at the gravesite. Our supplier provides us with professionally designed products. They are a top-quality product and will look good throughout their season. Marker cleaning, flower, and wreath services allow nonresident families to ensure that their family graves are well maintained.