The Story of the Land & Grounds
Forest Lawn Memorial Park has both developed and undeveloped land. An estimated 47 acres have been developed into the cemetery. It has been divided into over 40 sections containing over 44,000 graves. Today, there are over 20,000 individuals interned. Geographically the cemetery lies 0.2 miles south of Shields Road; it is bounded on the east by Market Street (Ohio Route 7) and on the west by Glenwood Avenue. Entrances are located off Market Street and Glenwood Avenue. The undeveloped land remains natural and acts as a buffer between the cemetery and the busy roadways, residential and commercial properties.
GIS Map of Cemetery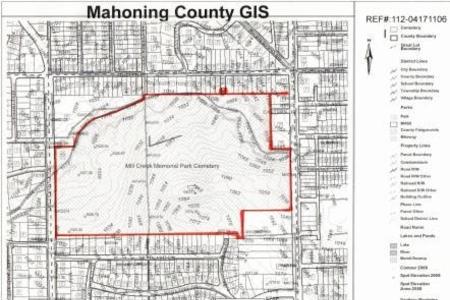 Grounds Photos
Pitkin and Mott of Cleveland were hired as landscape architects. They were responsible for the design of the paved-curbed boulevard and roadways that wind through the rolling grounds. They were transforming farmland into a memorial park with broad green lawns accented by a variety of towering trees, pines, and shrubbery. A 1934 newspaper article describes the cemetery as a "mass planting of shrubs interspersed with perennials which affords a complete rotation of bloom from spring to late fall. The use of flush to the ground bronze markers and the absence of upright tombstones and monuments complements the design. The landscaping design was completed by Miss Carol H. Lawrence, landscape architect, of Flint, Michigan in 1934. She supervised the purchase and planting of over 4,000 trees and shrubs from the Kohankie Nurseries in Painesville, Ohio.
Today, the grounds remain true to their original design. Its tranquility is a place for loved ones to remember and mourn, walkers to enjoy, and a shared community asset.
Below are old newspaper articles and board meeting minutes pertaining to the land and grounds.